Keep Your Jet Ski Out of the Water with a Jet Ski Lift
Jet Ski Lifts & How They Can Prevent Damage & Corrosion 
There's nothing quite like the thrill of taking your jet ski out on an early summer
afternoon to race around the lake or bay, at Boat Lift Distributors our main concern is what you're doing
with your Jet Ski once it's docked.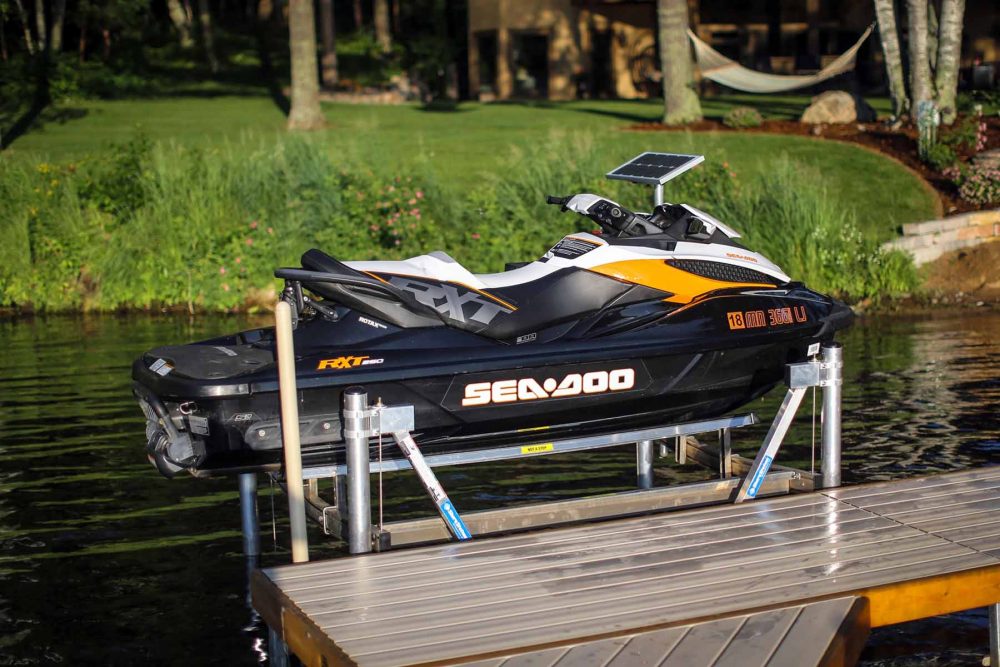 It's fine to leave your Jet Ski in fresh water for a couple days, as long as it is securely tied to your dock,
however, if you're ripping around in salt water, you're going to want to find a way to
keep your Jet Ski out of the water ASAP.
Salt water is incredibly corrosive and can start doing loads of damage to your Jet Ski
even within a couple days. Investing in a Jet Ski lift is one of the smartest moves
you can make to protect your Jet Ski.
The Most Popular Options are Electric, Freestanding, & Floating Lifts 
We offer an extensive selection of electric, freestanding, and floating lifts all which can
easily and quickly get your Jet Ski out of the water. Our Jet Ski lifts are suitable for a
variety of big brands, like Polaris, Waverunner, and SeaDoo, and vary in size and
capacity. We offer everything from the Roll-N-Ride JP 1400 LS which features 8 inline
rollers for easier launching and a molded-in bow stop, to a fully electric, Storm Surge Dual PWC
lift that's rated for up to 2,000-lbs and uses an AMS Power Hoist to lift your Jet Ski out
of the water easily.
Trust your Jet Ski to Boat Lift Distributors. We're voted the #1 in boat lifts and have
been in business for over 40 years. We're a family-run, American company that stocks
only the most dependable products for competitive prices.

Contact Us if you Have Any Questions 
Need more info or have any questions? Call us and chat with one of our customer
service reps. Know what you want already? Our simple and secure online shopping
experience will have your items on their way to you in no time!